Tamper evident strap seals are the most common group of tamper evident seals in use, and AC&M makes one of the most comprehensive lines of both plastic and metal strap seals. Shipping and transport are the leading uses for strap seals, and Food transport is a major sub group of that application.
FOR TRANSIT
A strap seal on a truck loaded with food products is important for verification that the contents have not been accessed after the door is closed. This provides confidence that the contents have not been altered or replaced after loading. Strap seals can also be a key tool for tracking and tracing. It can tell someone the source of the load and can be used to make sure the right products are going to the right place.
The options for seal marking to perform these functions vary by seal type. They can be as sophisticated as using barcodes or QR codes and other custom markings, or as simple as a few letters and numbers. Also, strap seals allow extensive options for color coding. Any of these options potentially provides key information to those who manage food products in transit from point to point.
Closures for food items in transit can be a truck door, a bulk box lid, the cap or valve on a bulk liquid tank, or the hatches and valves on tank trucks and rail tankers. All are secured with tamper evident strap seals.
A well-managed food safety program will include shipping logs and other records of the loading, movement and delivery of products that include the seal information. AC&M can offer advice for anyone who wants to implement a tracking system for seals. Tamper evidence and tracking are extremely important in protecting our food supply.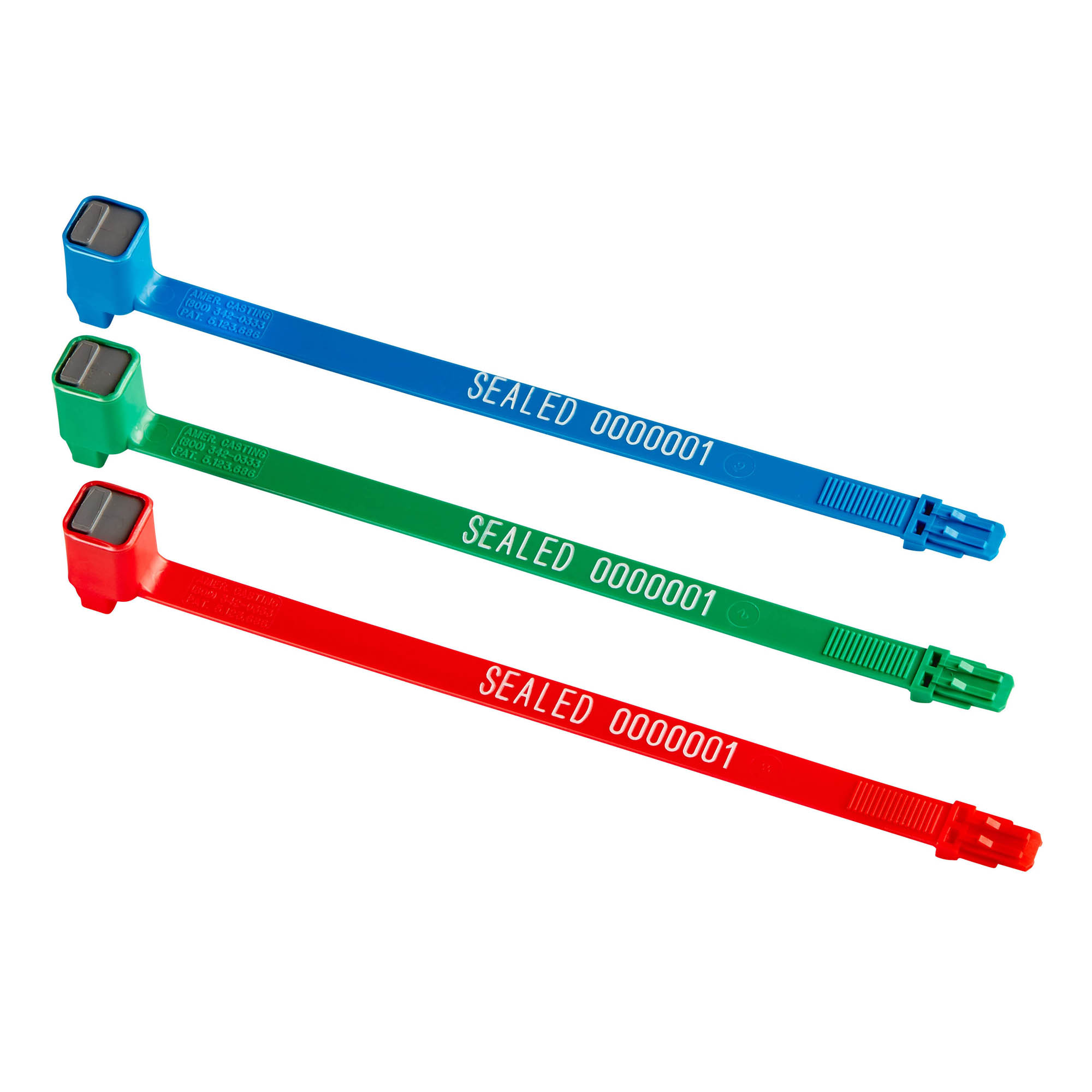 IN PROCESSING
Strap seals are not only used for moving food products from place to place in a vehicle. In the processing and packaging, they are used inside plants and warehouses to control or protect products or ingredients in storage or transfer. An example would be a plastic tote of meat or produce moving from a wash station to a freezing or packing station, with seals applied to identify them and prevent opening.
There are also smooth pull tight seals used to secure large storage units for raw and bulk consumables such as tanks, silos, and in-house conveyors. These might be on valves, access hatches, doors, covers and other closures found in the operation of processing food products.
STRAP SEAL TYPES
Strap seals are grouped as either pull-up (adjustable length) seals or fixed length seals that snap closed. Most are made of plastic but there are also metal strap seals of fixed length, which have been commonly used on truck trailers and rail cars, for over a century.
Today you can choose from a wide range of shapes, sizes, strengths, and materials. All will provide tamper evidence but some have considerably more options for marking and customizing. For a large number of food applications, the classic polyethylene round strap seal is used. AC&M manufactures several types. Our models AP-50, 9001, and PS95 are the mainstay of that group. Flat band pull-up seals are popular for raw material in bags and for other uses that require plastic with a bit more strength. Our models PS-360 and DT-ZIP are the top choice for that purpose.
There are too many strap seal options to discuss in this short piece but you can find them all at our web site and we offer written guides or personal consultation to help our customers decide which seal is right for them. Our plastic strap seals are made in our headquarters campus in Plainview NY where we have control over all aspects of production and delivery.
If you have questions about our seals, or want information about using seals in your food shipping or processing operations we are at your service. AC&M serves many of the major food enterprises around the world – from the farm to the consumer.
An experienced seal applications expert is available any time during business hours. Contact a seal specialist at our main office and factory: info@seals.com or call 1-800-342-0333 in the US or 516-349-7010 from anywhere.
Or see our website www.seals.com for sales and service locations outside the US.