Tamper evident seals are an important tool in law enforcement and the justice system overall. There are no universal standards but many jurisdictions and facilities have formally established procedures for sealing and securing what is essential to the integrity, safety, and accountability of their operations.
SECURING EVIDENCE AT OUTSIDE SITES
One very common use for seals in law enforcement is to protect evidence and verify its integrity throughout the legal process. Much evidence is sealed in envelopes, bags, boxes, glass vials, etc. and many of these containers are secured with a tamper evident adhesive label or security tape.
Adhesive security labels and tape are available from AC&M in many sizes and types with stock print or custom print.
The details and complexity of using seals for evidence cannot be fully covered in this brief commentary. But anyone who watches television crime shows has seen or can imagine the various ways evidence is gathered, documented, moved, and stored.
Protecting evidence is a multi-faceted job. Many things are regarded as evidence in crime scenes or during a search and seizure. A security tape or label gives versatility in sealing fixed items like doors, vehicles, and large objects, as well as containers for small objects, swabs, documents, etc . Computers and other electronic devices are often sealed before removal, as are file cabinets or similar storage fixtures found at crime scenes.
Sealing against evidence tampering is not limited to adhesive seals. Often a mechanical seal of plastic or metal is used. Items that can be tagged and have a place for attaching a plastic pull up seal or wire seal are examples. For some heavy items, a high strength cable seal requiring large cutting tools might be used.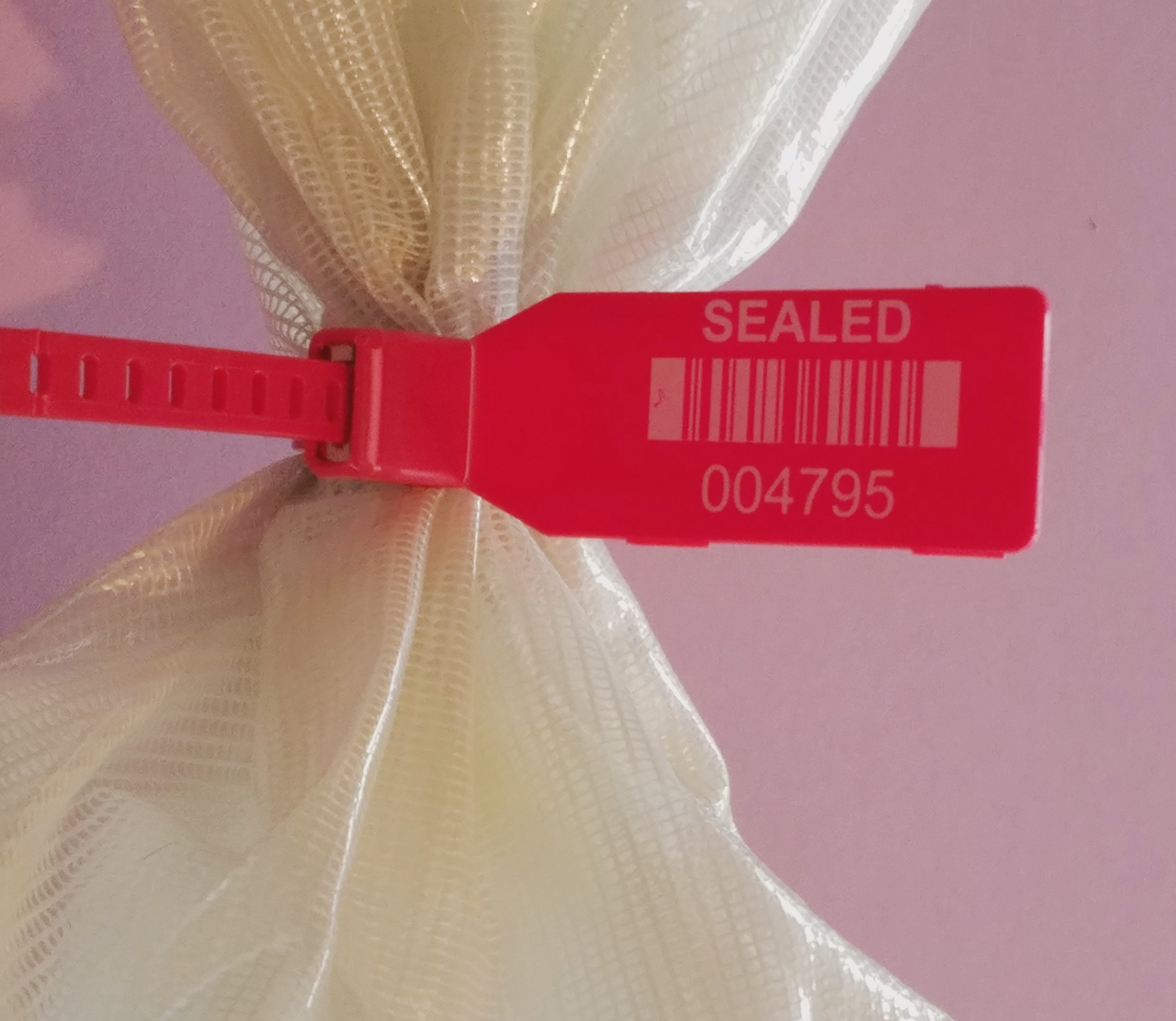 PROTECTING EVIDENCE AND ASSETS INSIDE POLICE FACILITIES
Seals are used in police buildings for storage lockers, evidence rooms, and often for tagging individual items not sealed before arrival. All types of seals can be applied in this situation. You would expect to see files and things in envelopes or bags sealed with the original seal from the collection point. But once examined and processed items in evidence are again sealed to verify the chain of custody. The process might be repeated when transferring evidence to a courthouse for use at trial.
Evidence of high value such as weapons and drugs are often sealed in multiple ways with access strictly limited. They might be inside a container or locker which in turn is in a secured room and both are sealed for limiting access. The seals can provide both evidence of opening and a place to note the identity of who last handled it or sealed it.
Beyond sealing evidence, police stations may seal certain supplies to assure they are properly stocked, inspected, and accessed only as needed. This includes tactical equipment, munitions, specialized weapons, protective gear, keys, and supplies like flares and other safety items. Sometimes internal records and access to electronic controls are also sealed to assure only authorized staff are opening them.
Every situation is unique, but police facilities that hold people in custody often have a sealed bin or container for personal belongings.
SEALS IN CORRECTIONAL FACILITIES
Correctional facilities (prisons and jails) use tamper evident seals both for protection of the facility and staff plus the people in their custody.
Most jails store personal belongings of inmates inside a box, bin, or locker that is sealed to assure access only when authorized and to prevent theft or loss. Plastic Pull Up Seals are the most often used type of seal for this purpose. Sometimes this is for long-term storage but also for storing personal and daily use items. The prison environment is one of continuous monitoring and protection. All items are potential targets for theft or pilfering and things are inventoried and counted on a strict schedule.
Materials entering and leaving prison often are sealed to assure that containers, carts, etc have not been opened to add or remove contraband, or in extreme cases, a person.
For the uses discussed here, AC&M offers options for smooth pull tight seals that are generic and numbered for simple record keeping. Or we make seals with more detailed information capacity for logging and verifying times, dates, places, persons or other specifics of the seal's application and use.
If you have questions about our seals or want information about using cable seals for law enforcement applications or any purpose, contact us. AC&M serves thousands of seal users in private business, government functions, and military agencies worldwide. We are glad to assist with guidance, samples, or pricing at your request.
An experienced seal applications expert is available any time during business hours. Contact us at our main office and factory: Email: info@seals.com Call toll free at 1-800-342-0333 in the US or 516-349-7010 from anywhere.
Or see our website www.seals.com for sales and service locations outside the US.