MONEY TRANSPORT
Banks and delivery companies who serve them use the greatest number of seals for moving currency and coin. The most common containers are bags and custom totes, normally carried by armored truck.
AC&M produces 2 bag seals that are very widely used for this purpose. Model PS-360 is a popular pull up seal made of plastic which has a unique multi-point locking system. It also features an added tab for securing a printed tag to the seal and therefore to the bag. PS-360 can work for nearly all types of bags. It has optional gripping teeth for bags that might allow a seal to be moved or removed. The gripping teeth assure the seal stays in place.
Additionally, model DTZIP is a longer heavy duty pull-tight bag seal with a unique steel locking tab that secures large and heavy bags with exceptional security and durability.
For caring money in totes and other specialty containers, the most common type of seal used is a standard plastic pull-up seal of which AC&M has a range of options. Choosing the right seal often depends on the type of conveyance and the amount of marking that needs to go on the seal.
Our plastic seals mentioned here can be customized with the bank name or other information, serial numbers, barcodes, logos, and more. A wide choice in colors is also an important feature of plastic pull-up seals.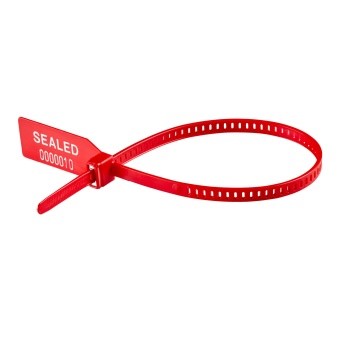 ATMs
ATMs contain a portable cartridge that holds and dispenses the cash. There are various designs but nearly all must be sealed after filling. Then the seal is inspected when removed and returned to the facility that loads and maintains the cartridge. A similar container is used to hold the deposited checks and cash. This also is typically sealed.
Carriers for ATM cash often use a wire seal. Our model PSW97 is a no-tool wire seal, or we supply aluminum crimp wire seals, often used if space is limited. More recently, new security adhesive labels, similar to the type seen on gas pump credit card readers are being applied to money cassettes.
Some ATM's also have an internal seal that protects the controls and main communication panel. These are sometimes isolated and only accessible by specialized service personnel, and not by the person who simply installs and removes cartridges daily.
DOCUMENTS IN TRANSIT
Besides money banks must move valuable and sensitive documents and forms, including legal and private documents as well as negotiable paper like bonds, cashier's checks, etc. These are often carried in custom pouches that use a zipper that is sealed. There are many seals we offer that can fit, and each bank or courier has their own preference. The simplest and most compact seal for a pouch is a plastic padlock seal. Alternatively, a light pull-up plastic seal might be used.
IN-HOUSE STORAGE
Within a bank, both in the public lobby area as well as the private office section there are storage drawers, cabinets, etc which typically are locked by key. However, for bulk storage there are larger spaces or fixtures which sometimes are sealed. A smooth pull tight security seal gives controlled access and the bank is able to keep an accurate log or record of when and by whom it was opened. As with transport, these storage units contain valuable and negotiable paper like blank checks, cashier checks, money orders, bonds etc. They also may contain sensitive company records or private client records.
PRIVATE BANKING
While not commonly seen by the public many banks have secure storage in vaults and other locked rooms that contain certain personal items owned by clients who hold bank-managed trusts. These items are physically held by the bank, on bank premises. Some of these valuable items require sealing or tagging to assure they have not been removed or tampered. While out of sight and not well known, the private banking assets in trust are an important part of banking's unique services maintained for centuries.
CONTACT US
If you have questions about our seals, or want information about using seals in banking, or for any purpose, please contact us.
Beyond banks, AC&M serves thousands of seal users including government, utility, military, and commercial entities of all types worldwide. We invite you to utilize and benefit from our 110 years in the seal industry, and a wealth of expertise. We are glad to assist with guidance, samples, or pricing at your request.
An experienced seal applications expert is available any time during business hours. Contact us at our main office and factory: Email: info@seals.com Call toll free at 1-800-342-0333 in the US or 516-349-7010 from anywhere.
Or see our website www.seals.com for sales and service locations outside the US.