Security in airport and airline operations is structured for varied purposes: commercial vs private, cargo vs passenger, ground vs onboard aircraft, military vs civilian. Usually, all of these functions are found simultaneously at major airfields. While other airfields like small private fields, military, or government sites, and commercial shipping airports might only have some of these functions.
These varied security operations work in compliance with FAA, DHS, TSA and other regulatory guidelines. Nearly all aviation facilities require tamper evident sealing for some reason. A large number of these sealing functions are done using tamper evident adhesive labels and tapes. American Casting & Manufacturing offers a full range of adhesive Security Labels or Tapes used in all areas of aviation, and here are five of the many important reasons for using them:
GUARDING AIRCRAFT ACCESS
One of the earliest uses of adhesive security labels in aviation was to seal doors on aircraft when not in use. It is critical to know that no unauthorized person has entered the aircraft or accessed other openings while it is on the field unattended, or in a hangar. A security label shows a clear message of OPENED or VOID when the label is removed. Also the time and date of sealing and opening can be recorded as may be required by airport regulation.
Interestingly, private aviation use was one of the early reasons for developing labels that leave their void message only on the label and not on the surface it is applied to. (This type is called "non-residue" adhesive). Non-residue adhesive was developed to eliminate repeated cleaning of the aircraft surface each time a label was taken off. That type of security adhesive is now applied in countless industries and uses.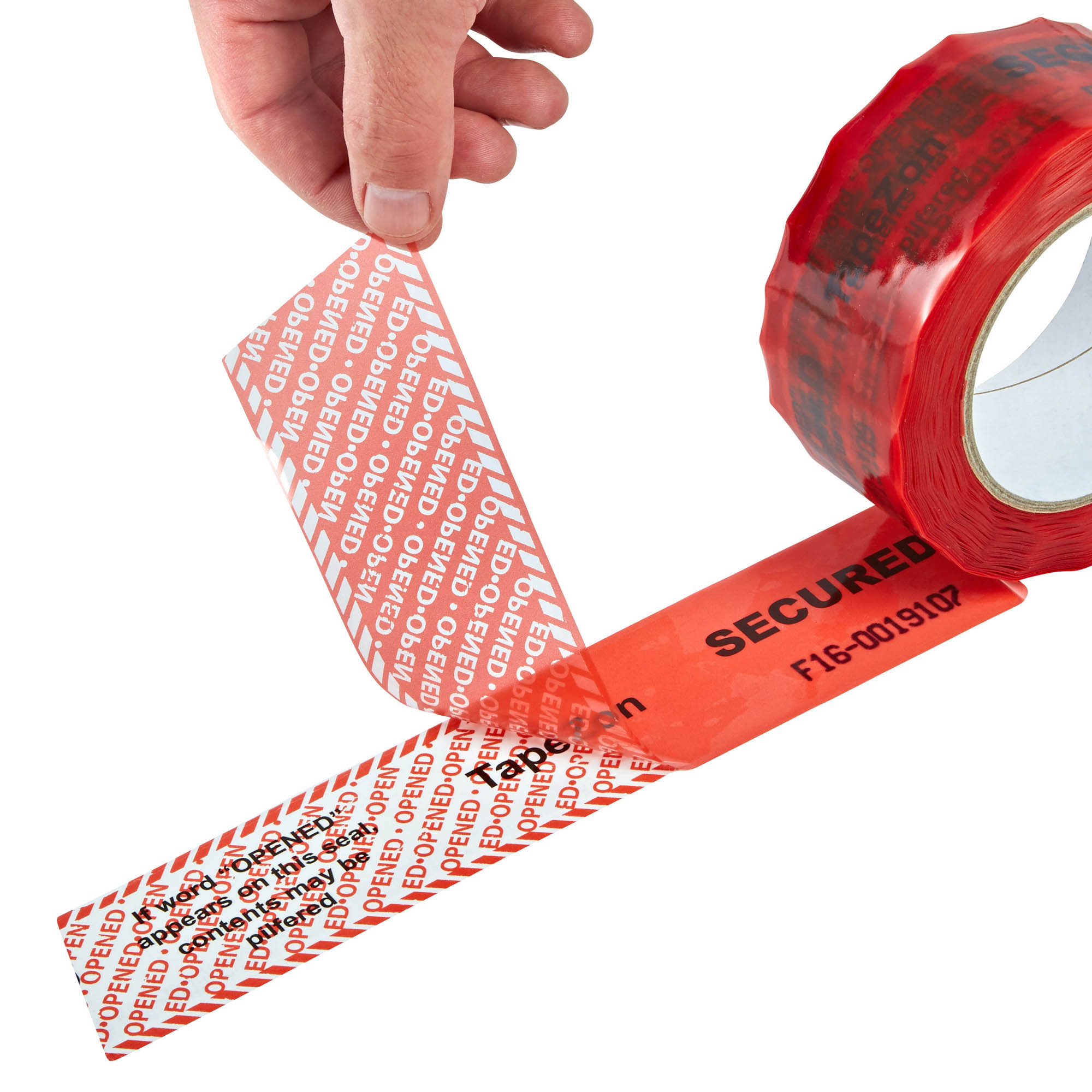 SECURING CARGO AND LUGGAGE
Adhesive Security Tape is used extensively in securing air cargo. Tape will fit the many different kinds of cargo that are loaded onto planes. Unlike ocean containers and trucks, which can be secured with a single door seal, air cargo is a mixed array of products in standard containers and many items that do not fit in standard airline cargo containers. These include things like pallets, oversize or specialty cartons and boxes, machines, large parts, and more.
There are adhesives for security tape specifically engineered for use on wooden crates, plastic pallet wrap and various other surfaces of cargo. Security tapes usually have both a visible VOID message in the adhesive to show clearly if it was removed, plus serial numbers and other identifiers printed on the surface, at specific intervals. This allows contact at some or all point along the surface of an object to accomplish a visible security indicator, and identify the item with a number.
While most baggage is inspected and loaded with standard tags under control of the air carrier, some luggage and special excess baggage is required to be identified and secured like cargo. In those cases security tape can be the best product because it can be wrapped around the piece that is being sealed and then easily removed, without damage.
PROTECTION FOR CONSUMABLES
The supplies that are loaded onto an airplane for passengers and crew including food, drinks, medicines, paper products, catering utensils, disposable items, and more are secured in sealed carts or containers. Many catering carts use a mechanical seal that can be broken off, while other items require a security label. Labels are needed when a container does not have a hasp with a hole, or other provision for a mechanical seal like commonly used indicative padlock seals.
SECURITY FOR ONBOARD SAFETY EQUIPMENT
Inside the compartments of aircraft are various safety items including portable oxygen tanks, medical emergency kits, special signaling and lighting devices, rafts and other emergency gear that is tested, inspected and sealed to verify its status and readiness.
Many of these items have a security label and often the labels are designed to be signed and dated by the person who installed and/or inspected the crucial emergency gear onboard.
CONTROLLING ACCESS IN TERMINALS AND AIRPORT FACILITIES
Security adhesive labels or tape help control and monitor access to various secure closures. Air traffic control, security operations, maintenance, terminal supply operations, hospitality services and others have need for securing many things. Among these are storage of product inventory at the retail stores, inventory at food vendors, access panels for essential controls and security equipment, ticketing supplies and machines, monitors, information terminals, and a range of access doors and panels related to the mechanical systems throughout an airport facility that are not regularly opened.
WE CAN HELP You can purchase seals from AC&M in any quantity directly by phone, or smaller lots for immediate delivery anytime at the online store at www.seals.com.
If you are dealing with an urgent AOG issue our factory in New York is known for rapid service and response.
Or if you have questions regarding your applications for seals for aviation or in any circumstance, AC&Ms experts are available to help with answers. We are knowledgeable in all industries and all types of uses. We have been a key supplier to industry, government and military for 110 years.
Contact a seal specialist at: info@seals.com or call 1-800-342-0333 in the US or 516-349-7010 from anywhere inside or outside the US.