Padlock seals are often the most recognized used seals for meters. We make several types of padlock seals, within which there are many variations and customizations. While all of these can be used for utility meters, they also have a wide range of uses in other fields. Your meter security options don't end there, however. American Casting offers a variety of security seals suitable for metering devices, depending on your specific needs.
PADLOCK SEALS WITH SOLID WIRE HASPS
Originally these were made of all steel. The early all-steel version is still in use today. Beginning in the 1960s plastic with steel wire hasps became the first choice for electric meters, and the industry continues to use this design. The wire hasps can be made so they must be cut to remove, or with breaking notches (scoring) to allow removal without tools.
More recent developments have produced an advanced padlock seal with more tamper-detecting and performance features. The XPC-2 offers a clear acrylic jacket to withstand tough conditions and protect the information inside. A version of XPC with a highly readable bar-code is also available.
These jacketed seals make tampering easier to see, and harder to perform without destroying the seal or leaving evidence. These more advanced seals are becoming popular for use on meters that are read with remote readers or on centralized AMR systems. Because the meter is seen less often by utility personnel, a more advanced security seal helps deter tampering for those longer periods.
ALL-PLASTIC PADLOCK SEALS
The all-plastic padlock seal most used in electric metering is our model 7001 seal. They are referred to as a "demand" seal from their common use on demand meters. Typically, demand meters require a new seal monthly or at some frequent interval. A meter technician often has only one free hand to perform a seal change, so the padlock seal can be applied and easily removed with one hand.
For other meter applications, all-plastic security seals are used on devices with a smaller opening, or when a seal has to break away easily. Applications include meters for taxis, valve controls, digital remote reading boxes, and meters for bulk liquids like fuel and chemical, food and beverage concentrate, spirits, solvents and more.
Their simple design actually makes detection of tampering easier than with some stronger seals. These security seals are used in many other industry sectors like medical, banking, food and air transport.
WIRE SEALS
The earliest wire seals were introduced in the 1800s as lead castings, and are still in use.
Alternatives were developed to replace lead for health reasons and to get away from sealing tools.
The newest and most advanced type is the patented MODEL PSW-97 plastic and wire security seal which uses a precision stainless steel locking plunger. The PSW-97 offers the highest level of visibility and tamper evidence, and can be used with any wire length. This allows the seal to fit almost any meter and is made to last for years without serious degradation from outdoor elements.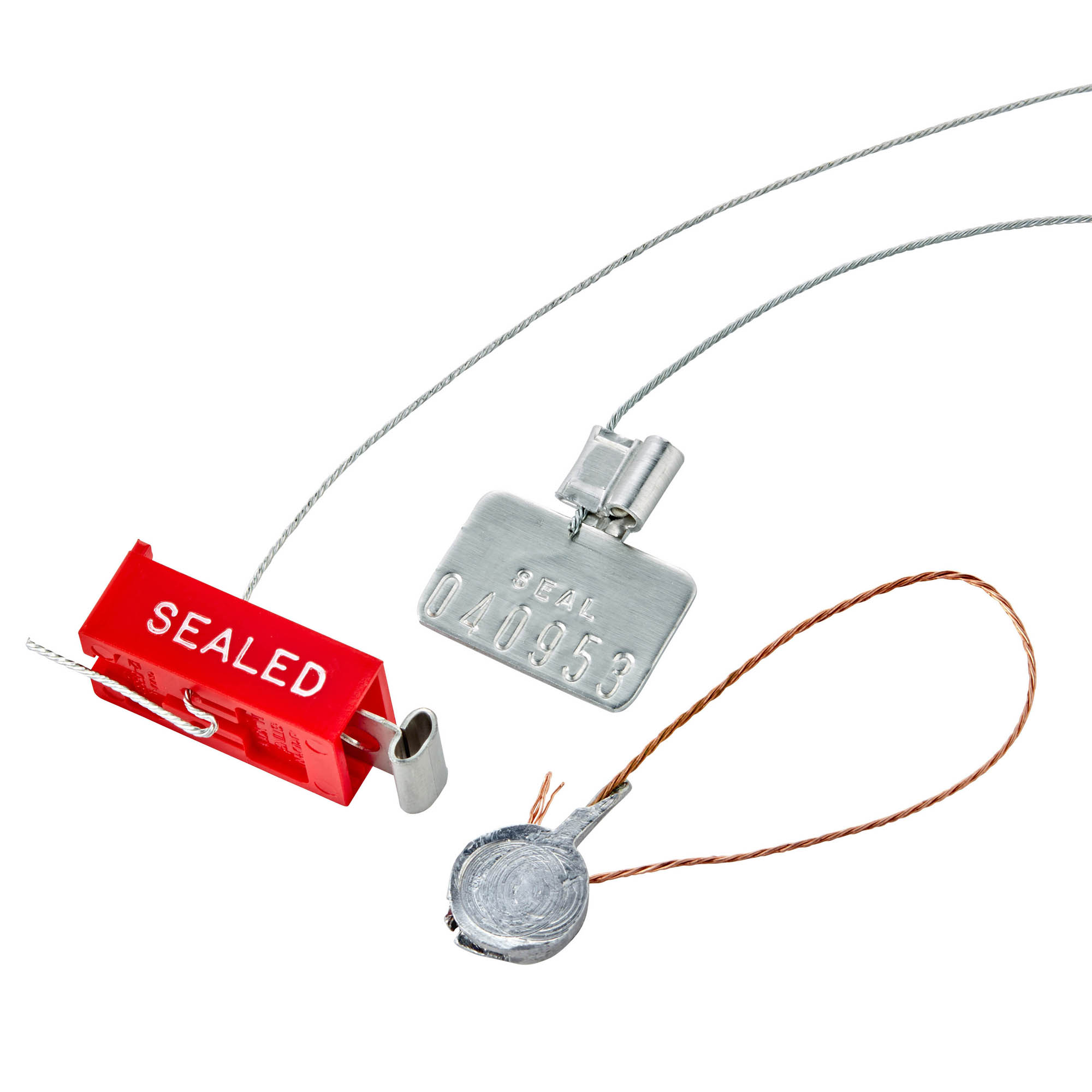 USING PULL-UP CABLE SEALS FOR STRENGTH AND DETERRENCE
When a strong barrier is needed on a meter, normal practice is to use a specialized lock, like the barrel lock, backed up by a tamper-evident seal. Use of barriers are determined by degree of risk and the value of billing through the meter. Locked meters are likely in a location more exposed to risk, or on meters of large volume users where costly losses could occur.
Some utilities are moving to a single device (a higher strength or "barrier seal") instead of both a lock and seal. High strength security seals are useful when the installation calls for more than a tamper-evident seal, but seldom will require opening. For this job, the type most used is the pull-up cable seal. These require a cable cutter (bypass type) to remove.
Pull-up cable seals are useful on:
junctions, current transformers, remote substations, tool and equipment storage, and even to secure spools of valuable wire.
The simple no-tool installation allows for secure and fast sealing. The many available cable sizes allow the user to match the appropriate strength and size to almost any opening or device. Versatile, high-strength cable seals are also excellent for securing on-site equipment, storage areas, sub-stations, well heads, and any other remote assets or controls.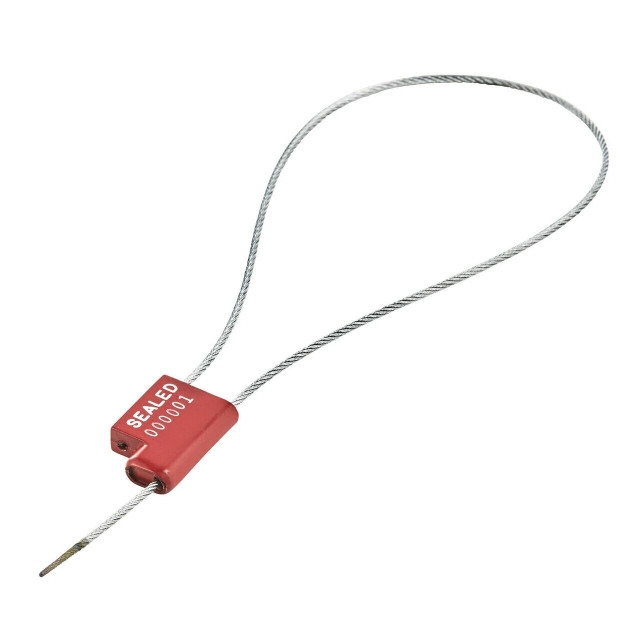 TAMPER-EVIDENT ADHESIVE CLOSURES
New technology in adhesives has brought new options for short-term sealing of such things as temporary shut-off meters, meters in transit, test equipment after calibration, and all types of equipment and tools. These new tamper evident tapes and labels have a warning message embedded in the adhesive that leave a permanent record once the tape or label is pulled off. There are security labels that will leave the message on the device as well as a type that leaves the message on the label but does not leave residue on the device you are protecting. (Especially useful for expensive test equipment, computers etc.)

OTHER SECURITY SEALS AND APPLICATIONS
This summary covers only those applications currently most common to utilities. For securing buildings, storage areas, equipment, supplies, tools and other assets there is a wide range of security seal options, from cable seals, to bolt seals, to smooth pull tight seals, to printed nylon ties, and specialty tags. There are no limits.